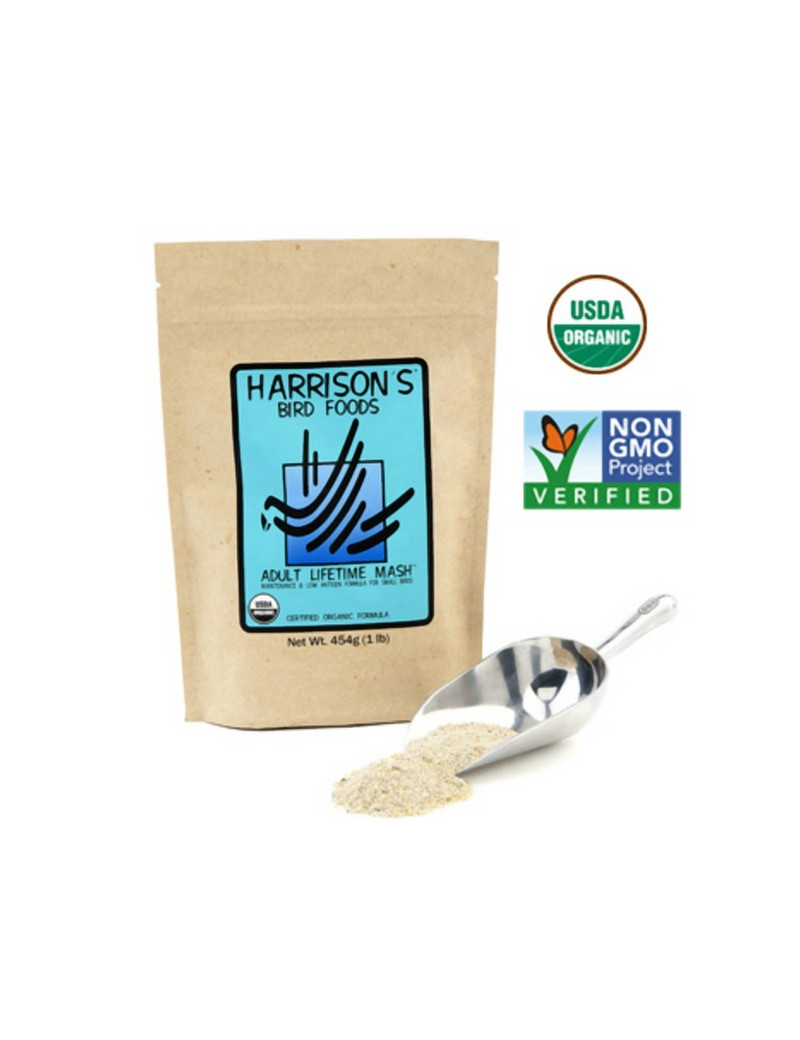  
Harrison's Adult Lifetime Mash (1lb)
Harrison's adult lifetime mash is year-round maintenance formula meets the nutritional requirements for healthy, non-breeding, non-molting birds. 

SSL Certified for secure online shopping

Secure Payment with PayPal. NO PayPal account is needed

Fast shipping! Combined shipping rate available for multiple purchase

Exchange and return are available. Please check our policies in "terms and conditions"
An Adult Lifetime formula may be offered after a bird has completed a dietary program of a High Potency formula for a period of 6 months. This year-round maintenance formula meets the nutritional requirements for healthy, non-breeding, non-molting birds. SUSPECTED ALLERGIES: Adult Lifetime Mash is a ground powder formula (with bits) that contains no peanuts, sunflower or corn. 
Adult Lifetime Mash Ingredients
*Hulled Gray Millet, *Toasted Buckwheat, *Toasted Soybeans, *Sesame Seeds, *Chia, *Alfalfa, Calcium Carbonate, Bentonite, Monocalcium Phosphate, *Sea Kelp, Mixed Tocopherols (source of Vitamin E), Salt, *Anise Seed, *Algae Meal, Vitamin/Mineral Supplement (Vitamin A Palmitate, Vitamin D3 Supplement, dl-Alpha Tocopheryl Acetate, Vitamin B12 Supplement, Riboflavin Supplement, d-Calcium Pantothenate, Niacin, Pyridoxine Hydrochloride, Biotin, Thiamine Mononitrate, Folic Acid, Zinc Sulfate, Manganese Sulfate, Copper Sulfate, Calcium Carbonate and *Sunflower Oil) *CERTIFIED ORGANIC INGREDIENT
Analysis
Crude protein (min.) 17%, crude fat (min.) 6.5%, crude fiber (max.) 8%, moisture (max.) 10%. 
Storage
Harrison's Bird Foods do not contain artificial preservatives. - Do not repackage into other containers. Squeeze air out of bag, seal and store. If zip becomes damaged, roll bag down and clip shut with chip clip or clothespin. - Once opened, a bag of Harrison's should be used up within 8 weeks. - Storing food in fridge or freezer helps maintain freshness.
Feeding Directions
Once converted to Harrison's Bird Foods birds should be fed in a planned daily regimen of individual meals. - Feed fresh food daily, do not "top off" 
Diet Allocation
Most small birds as follows: 70% - Adult Lifetime Mash 20% - Fruits and Vegetables 10% - Source of omega 3
Daily Feeding Amounts 
CANARY/FINCH: 1 - 1.75g BUDGIE/PARROTLET: 1.5 - 3g COCKATIEL/LOVEBIRD: 2 - 5g QUAKER: 3 - 7g CONURE/LORY: 5 - 15g DOVE/PIGEON: 5 - 15g 
Vegetables and Fruits 
For most small to medium, Harrison's suggests offering 20% fresh, nutrient-dense, organic vegetables and sprouts. - See individual species for specific suggested items. - Use of a gram scale is encouraged. 
Omega 3
Harrison's suggests a maximum of 10% of the daily diet be made up of rich sources of omega 3 items (organic chia, flax, hemp seeds etc. as well as certain nuts high in omega 3) - Use of a gram scale is encouraged. 
Additional Needs
The importance of exercise in pet birds cannot be understated. Learn more about ways for your bird to exercise. - Some bird species require regular access to direct sunlight for optimal health. - Life enrichment, ie; foraging activities, puzzle toys, frequent social interaction and other enrichment methods are necessary to keep most pet birds healthy and happy. A lonely, bored pet bird is more sucseptible to illness than a busy, active bird. 
Species include
 Budgies Finches Parrotlets Cockatiels Lovebirds Canaries
Reviews
(0)
No question is available on this product.
But if in case you have any doubt you can raise your query.