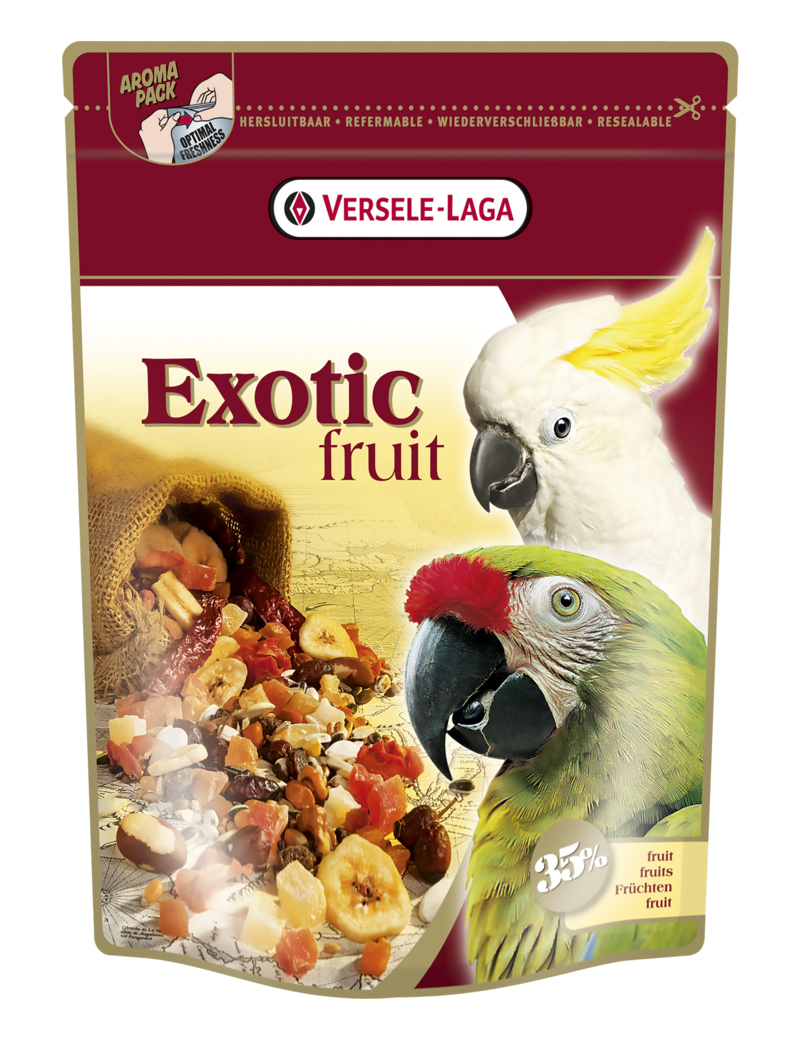  
Versele-Laga Parrots Exotic Fruit Mix (600g)
Discover Versele-Laga Exotic Fruit Parrot Mix - a flavorful and nutritious choice for your parrots. This specially formulated blend features high-quality exotic fruits to support your parrots' health and well-being. With essential vitamins and minerals, it promotes vibrant feathers and a strong immune system. Encouraging natural foraging behaviors, this mix keeps your parrots engaged and active. Trust in Versele-Laga's commitment to quality and order now for a delicious and wholesome diet for your feathered friends!

SSL Certified for secure online shopping

Secure Payment with PayPal. NO PayPal account is needed

Fast shipping! Combined shipping rate available for multiple purchase

Exchange and return are available. Please check our policies in "terms and conditions"
Introducing Versele-Laga Parrots Exotic Fruit Mix - the perfect choice for parrot owners who want to provide their feathered companions with a Ideal fruit snack for parrots.
At Versele-Laga, we understand that parrots require a diverse range of nutrients to support their overall health and well-being. That's why we've carefully selected a blend of high-quality seeds, grains, and exotic fruits to create this enticing mix. Each ingredient is chosen for its nutritional value and delectable taste, ensuring that your parrots receive a well-rounded and satisfying treat.
Our formula is enriched with essential vitamins, minerals, and antioxidants, which are crucial for supporting vibrant feathers, strong bones, and a robust immune system. The inclusion of exotic fruits adds a burst of flavor and provides additional beneficial nutrients, making mealtime a delightful and nutritious experience for your parrots.
Not only does Prestige Premium Parrots Exotic Fruit Mix provide superior nutrition, but it also encourages natural foraging behaviors. The diverse blend of seeds and grains stimulates mental stimulation and physical activity, promoting a healthy and engaged lifestyle for your feathered friends.
Versele-Laga is committed to quality and safety, ensuring that Prestige Premium Parrots Exotic Fruit Mix meets the highest standards. Our seeds undergo rigorous testing and quality control to ensure they are free from contaminants and harmful additives, providing a safe and healthy diet for your parrots.
Give your parrots the best nutrition they deserve with Prestige Premium Parrots Exotic Fruit Mix. Order now and witness the positive impact of Versele-Laga's expertise in pet nutrition on your parrots' health and happiness. Treat them to a delightful and nourishing meal, and watch them thrive with joy and vitality!
Reviews
(0)
No question is available on this product.
But if in case you have any doubt you can raise your query.