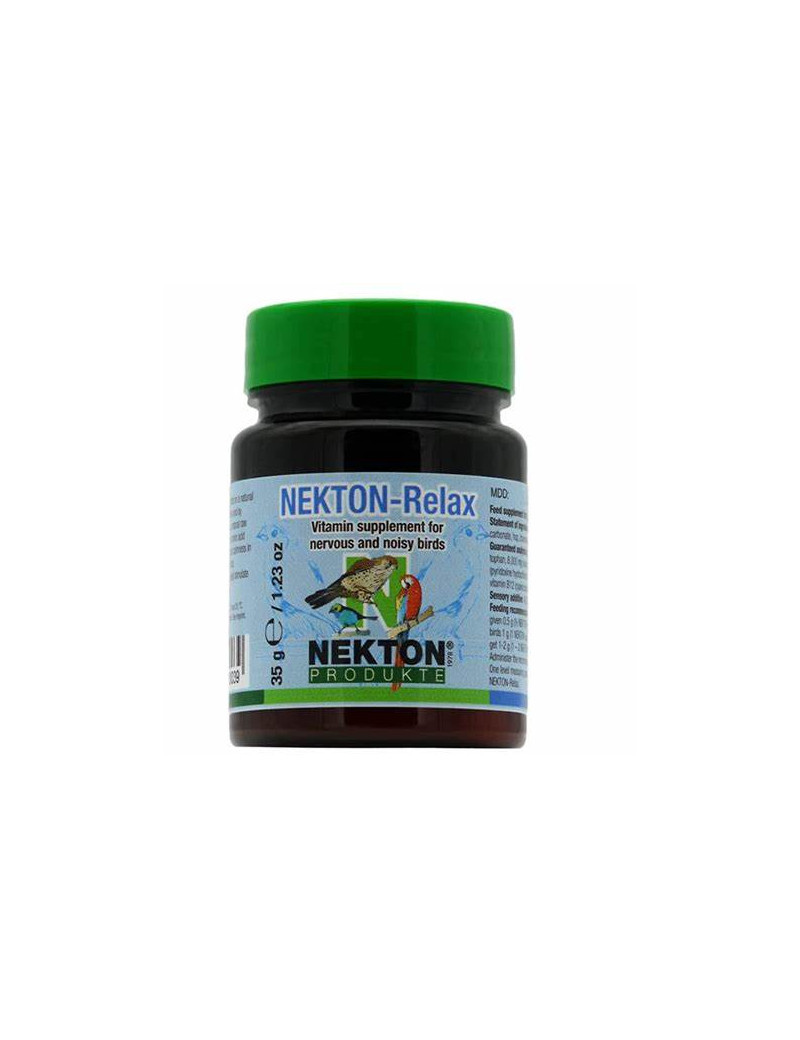  
Nekton Relax Stress Support For Birds (35g)
NEKTON-Relax: A bird vitamin supplement designed to ease stress and nervousness. Natural ingredients like chamomile, valerian root, and B vitamins promote peace and relaxation by stimulating serotonin production. Not a medication, it supports birds in stressful situations, fosters calmness, and can be administered long-term. Consult a vet before use. Store in a dry place, away from sunlight. Administer 2-3 weeks before shows. Follow recommended serving sizes. Keep away from children. For hygienic feeding, use NEKTON-Desi-Care.

SSL Certified for secure online shopping

Secure Payment with PayPal. NO PayPal account is needed

Fast shipping! Combined shipping rate available for multiple purchase

Exchange and return are available. Please check our policies in "terms and conditions"
NEKTON-Relax is a specially formulated vitamin supplement designed to provide optimal support to birds during stressful situations, effectively alleviating nervousness and promoting a sense of calm. Crafted with a unique blend of natural ingredients, this exceptional supplement encourages peace and relaxation in birds, ensuring their well-being during challenging times.
The Power of Nature:
NEKTON-Relax harnesses the potency of nature's bounty, incorporating a carefully curated combination of chamomile, hop, valerian root, and lavender. These botanical wonders, together with essential B vitamins and the amino acid L-tryptophan, play a pivotal role in stimulating the production of serotonin in the brain. As a result, they significantly reduce restlessness and anxiety in your beloved avian companions, instilling a profound sense of calm and tranquility.
Key Advantages:
- Stress-Free Experiences: NEKTON-Relax supports birds in facing stressful situations with remarkable composure, easing their unease and ensuring a smoother transition during unsettling events.
- Non-Intrusive Solution: Unlike conventional medications, NEKTON-Relax does not cause numbness or hinder your bird's natural instincts. It's a gentle yet effective approach to enhancing their well-being.
- Long-Term Wellbeing: Suitable for long-term administration, NEKTON-Relax reinforces positive experiences in birds, ensuring they navigate life's challenges with renewed confidence.
Precautions for Optimal Benefits:
Prior to administering NEKTON-Relax, we advise consulting a veterinarian to rule out any underlying physical illnesses that may be causing atypical behavior in your bird. Additionally, if the bird's environment or husbandry practices are identified as stress triggers, appropriate adjustments should be made to foster a peaceful atmosphere.
Guidelines for Usage:
The full effects of NEKTON-Relax typically manifest after consistent administration for approximately two weeks. For optimal results, the supplement can be given to your bird over a period of 4 to 12 weeks. To prepare your bird for upcoming exhibitions or shows, we recommend starting NEKTON-Relax 2-3 weeks beforehand.
Serving Size:
The appropriate serving size varies based on your bird's species. For small birds, half a measuring spoon (0.5 g) is recommended, while medium-sized birds should be given one level measuring spoon (1 g). Larger bird species may require one to two measuring spoons (1-2 g) for the best results. Mix NEKTON-Relax with soft food, as its natural components are not water-soluble.
Storage:
To maintain the supplement's efficacy, store NEKTON-Relax in a dry place, away from direct sunlight, at temperatures between 15°C and 25°C. Avoid refrigeration.
Maintaining Hygiene:
Ensure hygienically perfect feeding by disinfecting drinking vessels and feed containers daily using NEKTON-Desi-Care.
Safety First:
Keep NEKTON-Relax out of reach of children, and use it solely for its intended avian application.
Ingredients You Can Trust:
NEKTON-Relax is formulated with premium ingredients, including dried brewer's yeast, calcium carbonate, hop, chamomile, valerian root, and lavender. Its guaranteed analysis per kilogram includes 49,000 mg L-tryptophan, 8,000 mg niacinamide, 2,000 mg vitamin B6 (pyridoxine hydrochloride), 24 mg folic acid, and 400,000 µg vitamin B12 (cyanocobalamin). Furthermore, it contains 40,000 mg of taurine as a sensory additive.
Invest in NEKTON-Relax today to provide your feathered friends with the care and support they deserve. Your birds will thank you for their newfound serenity and well-being!
Reviews
(0)
No question is available on this product.
But if in case you have any doubt you can raise your query.