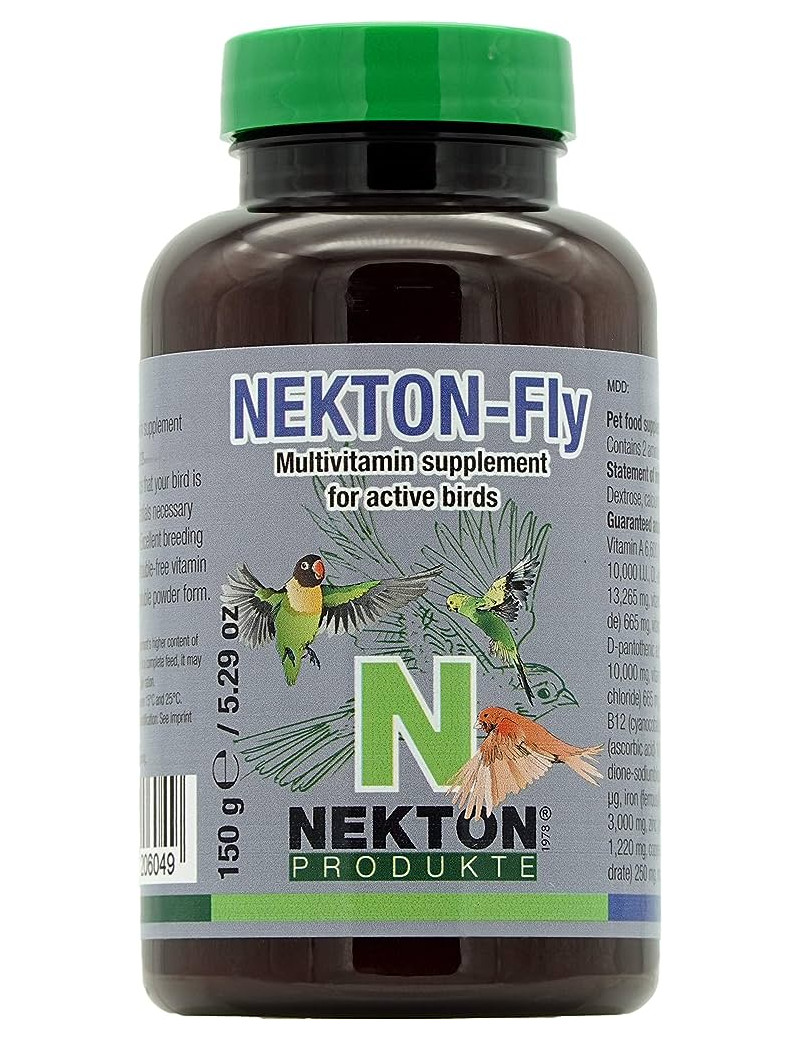  
Nekton-Fly Multivitamin for Active Birds (150g)
NEKTON-Fly: The essential multivitamin supplement for active birds. With 13 vitamins, 6 trace elements, 2 amino acids, calcium, and minerals, it boosts strength, energy, and laying performance. Ideal for flying birds, it supports growth, fertility, and efficiency. Elevate your bird's performance with NEKTON-Fly.

SSL Certified for secure online shopping

Secure Payment with PayPal. NO PayPal account is needed

Fast shipping! Combined shipping rate available for multiple purchase

Exchange and return are available. Please check our policies in "terms and conditions"
NEKTON-Fly is a powerful multivitamin supplement designed to meet the specific needs of active birds. Packed with 13 vitamins, 6 trace elements, 2 amino acids, calcium, and minerals, this unique formulation provides the essential strength and energy reserves needed for flying and optimal laying performance.
Benefits for Active Birds: NEKTON-Fly supports growth, efficiency, fertility, and laying performance while positively influencing metabolic processes. During antibiotic and sulfonamide treatments, it meets the increased vitamin and mineral requirements, supporting the treatment of diseases and preserving intestinal flora.
Easy Administration: Administer NEKTON-Fly effortlessly through drinking water or mixed with soft feed. For comprehensive nutrition, combine it with NEKTON-MSA mineral compound. Remember, avoid using other vitamin compounds simultaneously.
The Power of Calcium: NEKTON-Fly contains vital calcium for healthy bone formation, eggshell development, and overall growth, particularly in young birds. Additionally, it offers trace elements and an ideal mineral balance.
Feeding Recommendations: Add 1g (1 measuring spoon) of NEKTON-Fly to 250 ml of drinking water or 100g of soft food. During stressful situations, double the dosage for a short period. Ensure it constitutes no more than 5% of the bird's daily ration due to its higher vitamin D and trace element content compared to complete feed.
Storage and Hygiene: Keep NEKTON-Fly in a dry place, away from sunlight, at temperatures between 15°C and 25°C. Disinfect drinking vessels and food containers daily with NEKTON-Desi-Care to ensure clean and hygienic feeding.
Premium Ingredients: NEKTON-Fly primarily contains dextrose and calcium carbonate. The nutritional additives per kg include essential vitamins, such as vitamin A, D3, E, B1, B2, B6, B12, and biotin. It also provides iron, zinc, manganese, copper, and iodine, along with the technological additive, silicic acid.
NEKTON-Fly is the ultimate supplement for active birds, supporting their performance and health. Elevate your bird's vitality with NEKTON-Fly today. Keep it away from children and unlock the power of a comprehensive multivitamin solution for your feathered friends.
Reviews
(0)
No question is available on this product.
But if in case you have any doubt you can raise your query.