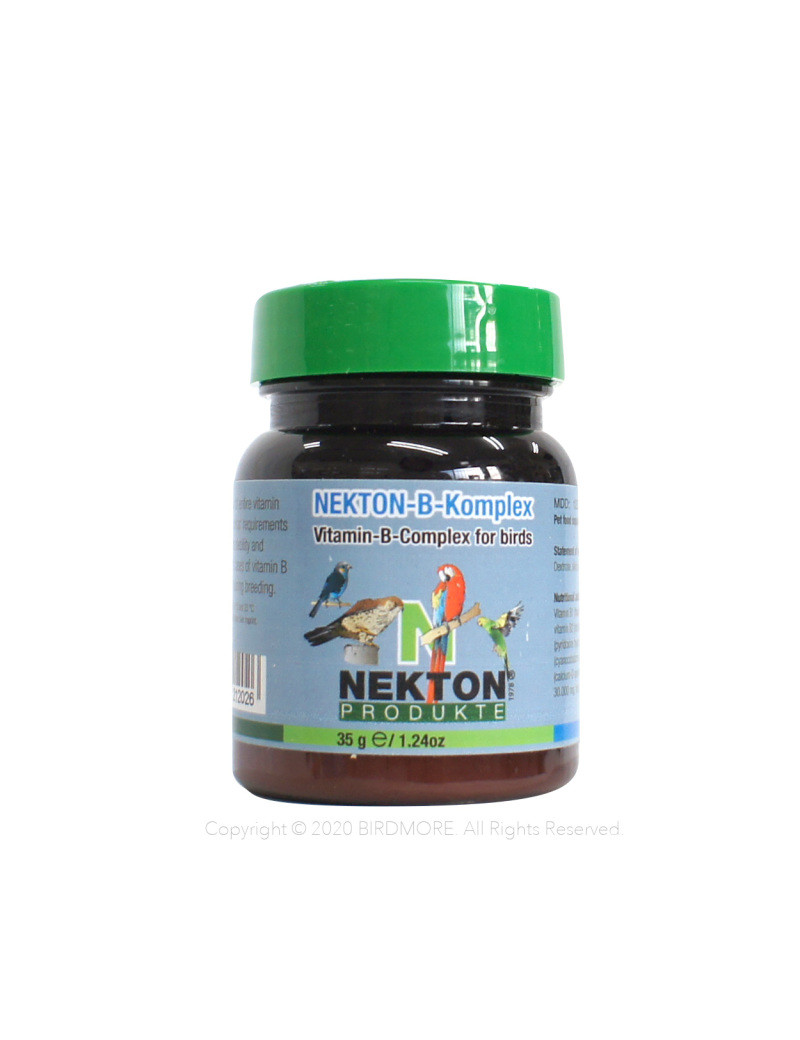  
Nekton-B-Komplex Vitamin-B Complex for Birds (35g)
NEKTON B-Komplex: The ultimate vitamin B complex supplement for birds of all species. It repairs deficiencies, supports nerve tissue, and optimizes metabolism. Deficiency symptoms like nervous disorders and skin issues are addressed. Premium ingredients ensure your bird's health and vitality. Elevate your bird's well-being with NEKTON B-Komplex.

SSL Certified for secure online shopping

Secure Payment with PayPal. NO PayPal account is needed

Fast shipping! Combined shipping rate available for multiple purchase

Exchange and return are available. Please check our policies in "terms and conditions"
NEKTON B-Komplex, the ultimate vitamin B complex supplement, is your bird's key to robust well-being. Specially formulated for all bird species, it addresses deficiency states, supports nerve tissue, and optimizes protein, fat, and carbohydrate metabolism.
Deficiency Symptoms Addressed: Lack of essential B vitamins can cause nervous disorders, abnormal skin changes, and growth disorders in birds. NEKTON B-Komplex provides the necessary vitamins to combat head bending, irritability, uncoordinated movement, and spasms.
Tailored to Birds' Unique Needs: Birds have increased vitamin B requirements during stress, illness, or antibiotic treatments. NEKTON B-Komplex caters to their specific needs, ensuring optimum health.
Easy Administration: NEKTON B-Komplex dissolves easily in cold water, simplifying administration through drinking water or soft food. For comprehensive nutrition, combine it with NEKTON-S.
Essential Vitamin Complex: NEKTON B-Komplex contains a high-quality vitamin compound from the vitamin B complex. While present in some feed, additional supplementation is vital for birds.
Crucial Physiological Functions: Vitamin B in NEKTON B-Komplex regulates protein, fat, and carbohydrate metabolism, supports gastrointestinal, nerve, and heart tissue, and promotes blood, antibody production, and skin health.
Usage Guidelines: Healthy birds without strains should receive NEKTON-S and NEKTON-MSA daily. Only use NEKTON B-Komplex when necessary.
Feeding Instructions: Small birds: Half a scoop (0.5g) Medium-sized birds: One level scoop (1g) Large bird species: One to two scoops (1-2g) Add the appropriate amount to daily drinking water or soft food.
Storage and Hygiene: Store NEKTON B-Komplex in a dry place (15°C to 25°C), away from sunlight, and not in the refrigerator. Maintain optimal hygiene with NEKTON-Desi-Care for clean feeding.
Premium Ingredients: Composition: Dextrose Nutritional additives per kg: Vitamin B1 (thiamine hydrochloride): 1,500 mg Vitamin B2 (riboflavin): 3,400 mg Niacinamide: 30,000 mg Calcium-d-pantothenate: 10,000 mg Vitamin B6 (pyridoxine hydrochloride): 3,400 mg Vitamin B12 (cyanocobalamin): 8,400 μg Folic acid: 6,000 mg
Technological additive: Silicic acid
Remember: Keep NEKTON B-Komplex out of reach of children.
Give your beloved birds the care they deserve with NEKTON B-Komplex—your partner in avian health and vitality.
Reviews
(0)
No question is available on this product.
But if in case you have any doubt you can raise your query.